The sixth time's the charm…
Donald Trump, after threatening to do so five times previously, has finally stepped into American electoral politics, and at the game's highest level. For the time being, he IS the show, the most popular man seeking the presidency, some 14 months before the election.
For those who put stock in early polling, consider the following: Trump leads in Iowa, in New Hampshire, and in South Carolina. Trump seems to lead everywhere, beating everyone…and badly.
Those most severely "Trump-ed", to date, are political pundits and the media. First, they scoffed at the idea that he WOULD run – understandable, given the previous five false starts…but then he did. They then went to openly predicting that he would pull out of the race, before one voter has opportunity to indicate their preference…well, he still could, but shows no signs of doing so. Recently, they have simply stated that Trump will not win.
Of course, at this juncture, that is a safe bet to make against any candidate – Democrat, Republican, or other – making it against Trump is no more authoritative than making it against Jeb Bush or Hillary Clinton; everybody has their own campaign struggles. However, instead of trying to get the press to hedge their bets against him, Trump seems intent on making them double down.
Trump has taken on the media directly and made it personal. Regarding right-leaning news organizations, his debate dust-up with Megyn Kelly: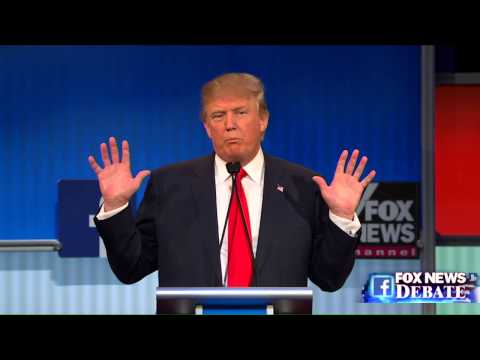 is now a minor running feud, and the stuff of social media legend.
And Trump is even-handed, treating left-leaning organizations with the same "directness":

even bringing the Univision minion back for a second helping of his "big-hair charm":

Ironically, while others seek to gain allies in the press so they might get more attention – and a few more polling percentage points – Trump openly makes enemies of press members and laps the field, defying their conventional wisdom.
Conventional wisdom says Trump's unrepentant criticism of illegal immigration and opposition to "birthright citizenship" will kill support among Hispanic voters. But Trump leads his Spanish-speaking and Hispanic-surnamed rivals; in at least one state, it's not close.
Conventional wisdom says Trump is too misogynistic to draw female support; sources even surfaced an allegation that Trump raped his former wife. Besides, isn't Hillary Clinton a shoo-in with women? However, Trump's ex-wife publicly called the rape allegation merit-less, and women are taking a hard, and apparently more favorable, look at "The Donald", while Clinton now falters among those who look most like her.
Conventional wisdom, in 2011, said that Trump's myriad business failures undermined his "successful businessman" claim, thereby nullifying his only qualification for the nation's highest elected office. However, four years of "Trump doin' Trump" later, even his critics acknowledge Trump's business successes along with his failures.
So, conventional wisdom says a rich, bombastic blowhard, with no political experience, like Donald Trump, should fade under campaign scrutiny, especially given his considerable baggage…
But he hasn't…so far…despite the predictions, and to the horror, of the conventionally wise, who see many of his comments as falling outside the bounds of the "usual political discourse", and many of his actions as running counter to the "normal political process".
The press and the pundits just can't seem to figure out the Trump phenomenon, though part of the reason should be intuitively obvious to the "establishment" GOP observer…
Simply put, Donald Trump is an American man:
• Not given to estrogen, or the "safe" and "practical" thought processes thereof,
• Possessed of confidence (even cockiness and arrogance), of ideals, and of values,
• Undeterred by success and unbowed by failure,
• Believing the best lies ahead, no matter what lay behind,
• Unafraid to pursue success, especially if it involves difficulty, and
• Unconcerned with your opinion about his choices, efforts, or priorities
In the last 55 years, only two such American men sought the Oval Office. One was John Fitzgerald Kennedy, who said during a 1962 speech at Rice University:
There is no strife, no prejudice, no national conflict in outer space as yet. Its hazards are hostile to us all. Its conquest deserves the best of all mankind, and its opportunity for peaceful cooperation many never come again.

But why, some say, the moon? Why choose this as our goal?
And they may well ask why climb the highest mountain? Why, 35 years ago, fly the Atlantic?
Why does Rice play Texas?

We choose to go to the moon. We choose to go to the moon in this decade and do the other things, not because they are easy, but because they are hard, because that goal will serve to organize and measure the best of our energies and skills, because that challenge is one that we are willing to accept, one we are unwilling to postpone, and one which we intend to win, and the others, too.
The other was Ronald Wilson Reagan, who in 1961, said the following:
Our Founding Fathers, here in this country, brought about the only true revolution that has ever taken place in man's history. Every other revolution simply exchanged one set of rulers for another set of rulers. But only here did that little band of men so advanced beyond their time that the world has never seen their like since, evolve the idea that you and I have within ourselves the God-given right and the ability to determine our own destiny. But freedom is never more than one generation away from extinction. We didn't pass it on to our children in the bloodstream. The only way they can inherit the freedom we have known is if we fight for it, protect it, defend it and then hand it to them with the well-taught lessons of how they in their lifetime must do the same. And if you and I don't do this, then you and I may well spend our sunset years telling our children and our children's children what it once was like in America when men were free.
These are the themes and the words that Americans long to hear: of their ability, of their opportunity, to challenge them to exceptionalism. That is what they hear when Trump says he intends to "Make America Great Again". To be sure, Trump does not deliver the message with the same power and urgency. But it is the same spirit – of seeing a problem, issuing a challenge, and saying America and her people can rise to it – that appears in Trump's words, that peaks out from behind his arrogance, that shines through despite the bluster.
Trump tells America that it can take on the world and win. He does so with brashness, without apology, and without concern for naysayers. He is as the Quarterback who swaggers onto the field – down 6 points, 90 seconds left in the game, on his own 1-yard line, no timeout to call – and tells everyone in the huddle, "Let's go win this thing".
By comparison, Trump's rivals, the press, and the political pundits are as trainers on the sideline, who simply hope the team leaves the field "healthy", having already accepted the likelihood of defeat. They do not understand that the American spirit and ethic:
• Values Victory over mere safety,
• Values Achievement over comfort, and
• Values being a flawed World Leader over being a good world partner.
Trump's appeal is not that he is uniquely qualified to quarterback the American team; he may not be. He is not the best speaker. He is not the most politically skilled. He is far from the most diplomatic. However, he seems the only one in the race who recognizes that no one is playing the quarterback position; Trumo is willing to step into the huddle, and call plays. For that reason, he is, so far, almost bulletproof: when you remind a great people that they are great, then they will hear and support your message.
And, as long as Trump continues in that vein, every little thing he does will be magic to the American people.